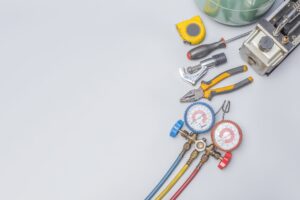 Do heat pumps and central air conditioners have the same problems? Well, yes and no. It's possible for a heat pump to run into issues that are similar and sometimes even the same as central air conditioner issues. But that's only sometimes.
The other half of the time a heat pump can run into issues that are wholly unique to heat pumps systems, hence why only experienced HVAC technicians should work on your next heat pump repair in Washington, DC. If they've only treated repairs in central air conditioning systems, then they might miss a thing or two when trying to fix this kind of technology.
To expand upon this, we'd like to talk about 3 common heat pump repairs that either only occur in heat pump systems, or that are just more common in these types of units. Then we'll leave it to you to contact a pro to have your system repaired properly.
Problems With the Reversing Valve
Heat pumps can go from cooling to heating a home depending on which way the refrigerant flows. It's one of the unique aspects of this kind of system. However, this can also be a problem if your system won't switch from cooling to heating mode properly.
There's a component that's responsible for this, called the reversing valve. Central air conditioners don't have this component and they can't have this kind of component malfunction. But if your system won't switch modes properly, then this is a heat pump-specific issue that needs to be addressed.
A Broken Ductless Mini Split
When a central air conditioner breaks down, your whole home starts heating up and it can get uncomfortable pretty quickly. However, not all heat pumps are centralized, and sometimes a ductless mini split can have only one of the air handlers break down. This can lead to a strange situation that's both positive and negative.
The nice thing is that when one air handler breaks down, the others can continue to function, so most of your home should remain cool and comfortable. However, the bad news is that it can be harder to detect that there's a problem with the air handler if you're not in that specific area of your home. This problem is unique to ductless heat pumps and requires professional help.
Incorrect Temperature Control
As we mentioned before, many heat pump systems are different from central air conditioners because they rely on small, mini split units to cool different areas of a home. One advantage to this is that each mini split can be set to a different temperature setting so you can have complete customized cooling throughout your home. However, this advantage can turn into a disadvantage if you're not careful.
If one mini split runs into problems, the thermostat component might start malfunctioning and you could have it run for extended periods of time with no major results. Make sure all of your ductless mini split units are running as designed and let us know when there's a problem with the thermostat settings on one of them.
For fast and reliable heat pump repairs, contact Polar Bear Air Conditioning & Heating Inc.