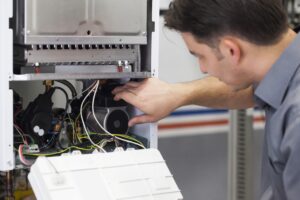 We can't deny that boilers are some of the most durable and incredible heating systems on the market. They last longer than forced-air systems, they arguably produce better warmth, and they're overall easy to maintain. However, this doesn't run true for every boiler.
Boilers have their own unique problems. From freezing sections to producing leaks, and eventually problems that give off awful noises like screeching, a boiler can be very clear when it needs help. Luckily, you don't need to search very far!
Our team provides sensible, affordable, and fast boiler repair in Alexandria, VA. We target the root of your problem, whether it's just a leak or it's corrosion on the interior of your boiler system. We'll fix it and make sure that your heating system is set up for long-term success. While you wait for our help, let's talk about some of the unique problems that boilers face.