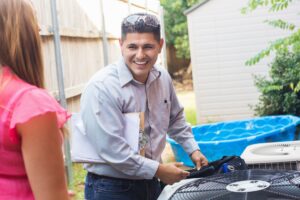 Installing a new air conditioner comes with some nuance to it. There's a lot of factors that come into play, and while we can't give you a definitive answer through a blog post, there is a lot we can tell you so you can accurately judge your own home and installation situation.
Depending on how intricate your air conditioning installation is, the time frame may change. We'll tell you right now that the ideal situation is one full day, spanning anywhere from four to eight hours. But before you can expect that, let's talk about some of the roadblocks you might run into.
It Starts With a Pre-Installation Appointment
It would be terrible for an installer to show up on the day of your AC installation and run into tons of unforeseen problems. While you can still hit a few snags on installation day, a pre-installation appointment is designed to alleviate most of those issues ahead of time.
Pre-installation appointments give your technicians the opportunity to inspect your ductwork, electrical panel, connections, and anything else that plays into the full installation. If you need duct replacement before they can drop a new unit in, that's a cost you need to know about beforehand.
Complexity Adds Time
A same-day installation is an ideal situation with a little bit of room for bumps in the road. The more steps and alterations that need to be made, the longer the process will take. A few good questions to ask yourself are:
Is the air conditioner being installed in the same spot as the old one?
Do you need to replace ductwork?
Are there any electrical upgrades you need?
What type of system are you having installed?
If the pre-installation appointment unveiled some problems like these, then you'll have to think about this possibly extending into a second day.
So Does it Take a Long Time?
Most installations should take between four and eight hours. That's an all-day affair, but it's a reasonable scenario.
When electrical issues or upgrades are thrown into the mix, that may extend the project by another four hours, making the potential time frame around one-and-a-half days.
Add ductwork replacement into the mix, and now the time really ramps up. Ductwork installation or replacement is very involved, so this may take an additional day. Maybe two depending on the size of your home and the number of vents it runs to.
If you run into all the complications, or you're installing a brand new air conditioner in a brand new home that doesn't have ductwork, the longest time frame is a few days.
It Depends on a Lot
Nobody likes the "it depends" answer, but we hope this post gives you some clarity and allows you to evaluate your home so you know what to expect. AC installation can be an ordeal, but even in the worst-case scenario, you're only looking at a few days.
We always work to complete air conditioning installation as quickly as possible while still taking attention to every detail. Proper installation is imperative to your unit's longevity.
Contact Polar Bear Air Conditioning & Heating Inc. today to schedule your next air conditioner installation as soon as possible.