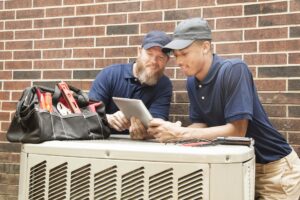 It's cooling season, which means that it's finally time to take our air conditioners out of hibernation and get them working again. At this point, it might be pretty clear that your AC isn't working as well as it was last year. Perhaps it's making some strange noise, producing a foul odor, or it's just bobbing around in its casing a little too much to the point where you know it needs to be fixed. Don't worry, we can help!
For homeowners who think they can provide the necessary fixes for their air conditioning in Great Falls, VA, we'd like to you reconsider this. No, we're not going to boast about how much better we are at providing fast and reliable AC repairs (although we are some of the best technicians in the area). Instead, we'd like to tell you about how any DIY repairs could actually void your warranty and cost you a lot of money down the line.
What's Wrong With DIY Repairs?
Look, anyone will tell you that the ability to make a fix yourself is always going to be cheaper than hiring a professional. We're not telling you that you shouldn't explore ways to fix up your home, provide improvements to your life, and build that gaming table or porch that you've always dreamed of. What we're trying to tell you is that there are some things you should leave to a professional, especially things like AC repair when it involves pressurized refrigerant, high amounts of electricity consumption, and your home comfort.
When you try to fix your own air conditioner, you're really gambling with your budget and your comfort. You're assuming that you'll be able to target the root of the problem (which is harder than it sounds) and that you'll be able to do so without damaging or bumping into another part, causing additional problems. This is a high assumption to make and the cost of when something goes wrong is usually not worth it.
Also, the moment you open up your air conditioner to fix it, you'll be voiding your warranty. Let's explore why that's a bad idea.
The True Value of an AC Warranty
An air conditioner's warranty is extremely valuable. A warranty allows you to be covered for any repairs that are specific to it, and you don't have to worry about anything else being broken as long as those repairs are performed by a licensed professional. This means that any additional problems that could be caused, either by the technology from the manufacturer, or from poor service, are not your responsibility.
The moment you void that warranty, you're on the hook for every single repair that comes afterward, regardless of whether or not it's your fault.
Some Ways It Can Be Voided
DIY repairs are one of many ways a warranty can be voided. Another common way your warranty can be messed with, is if you miss a yearly maintenance appointment. This shows the manufacturer or service provider that you're not keeping up with minimum standards and any deterioration after that point will be your responsibility.
So, keep up on maintenance and always call a professional for repairs. We promise you'll save more money this way.
Call Polar Bear Air Conditioning & Heating Inc. for AC repairs that will keep your warranty together!