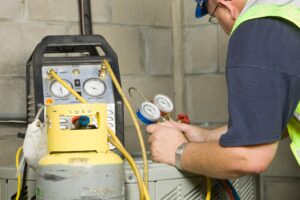 Investing in air conditioning is one of the smartest choices you can make for your home and comfort. But, it can also be expensive. That's why we created the Polar Plus Program! Our program is designed to help those who need AC maintenance in Washington, DC, without the hassle of large unexpected repair bills. 
This article discusses three reasons you should consider joining the Polar Plus Program.
Reason #1 – Invest Based on Your Budget
No one likes to think about losing their AC on a hot summer day. If the repair proves too costly or you need your entire unit replaced, this outage could last days or even weeks. With the Polar Plus Program, instead of worrying about one considerable expense, you can invest monthly to ensure that you won't have to start at zero when the time comes for a repair. You can also work out a monthly payment that works within your budget by speaking with your HVAC provider.
Reason #2 – Maintain Your Warranty
Air conditioning units typically come with a manufacturer's warranty. However, to maintain that warranty, regular maintenance is required. Failing to provide maintenance can void your warranty and cause more extensive repairs when needed. Participating in the Polar Plus Program can ensure regular maintenance and save you hundreds or even thousands of dollars when something goes wrong. One of our experts can help you understand your AC's warranty and provide guidance on avoiding high repair or replacement bills down the road.
Reason #3 – Extend the Life of Your System
Whether your unit is a decade old or brand new, it's essential to do everything you can to extend the life of your air conditioning unit. This means consistent maintenance, repairs, and annual professional checkups. Without it, your unit can degrade or fall into disrepair, costing you much more money than you may be ready to pay. However, with the Polar Plus Program, you can almost ensure that the price will never be too much. You'll be prepared for any problem when it arises, and you'll be in the best position possible to keep your AC running smoothly throughout the hot months.
Benefits of the Polar Plus Program
Besides these great reasons above, there are some other benefits of joining the Polar Plus Program, including:
2 visits per year–Our technicians will clean and calibrate your system.
Priority Scheduling (1st appointments of the day & Saturdays).
10% off all future visits.
Maintain your warranty and keep your equipment running efficiently while increasing the life of the system.
Now is the Time to Join
When it comes to your home, it's important to us that you feel comfortable and protected. The hot months are nearly upon us, and now is the best time to join to avoid large, costly repairs and keep your AC running smoothly for as long as possible.
Polar Bear Air Conditioning & Heating Inc. has your back. Give us a call to join the Polar Plus Program!