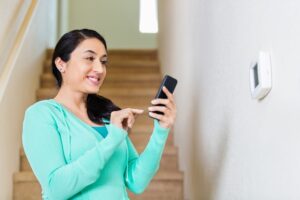 We all know the advantages of prompt AC repair, or air conditioning tune-ups in Ashburn, VA. These can be fairly obvious, because we physically see a professional take care of the problem, or provide the maintenance, and they end up making a big difference. However, it's the small adjustments that work behind the scenes that can sometimes play an important role as well.
Take your thermostat for example. Thermostats are sometimes referred to as the brain of an HVAC system, because they do all the calculating, programming, and direct the system to heat and cool depending on the climate. With that in mind, what if we told you that a thermostat upgrade could be the perfect way to achieve maximum comfort and energy efficiency in your home?
Nope, we're not joking. Keep reading as we talk about some of the advantages that come with a smart or Wi-Fi thermostat upgrade.
How They Work
Smart and Wi-Fi thermostats are a huge upgrade from other, less sophisticated systems. For starters, smart thermostats can learn your comfort patterns and help maximize the energy-efficiency of your home. This means you'll save on your month to month bills with little to no difference in the comfort levels of your home. Also, you can input your own standards and settings, so it makes sure to keep you as happy and comfortable as possible.
Wi-Fi thermostats are a bit different. While they can still be smart, programmable models, they also hook up to your home's Wi-Fi network. This means you can control them from your smartphone as long as you have access to the internet. So, while you're at work or on vacation, you can make sure your pets are comfortable and that your home is safe and secure by controlling the temperature remotely!
Better Comfort
A smart or Wi-Fi thermostat is much better at controlling temperatures than an ancient analog or regular digital thermostat. This is because they're higher-tech, better able to assess what areas of your home need cooling and signal to the system quicker what needs to be done. Your HVAC system will react faster and your home will be cooled off in no time with a high-tech thermostat.
Convenience
Convenience is important when it comes to HVAC. A smart thermostat can cool things differently from day to night depending on your preferences automatically, which means you rarely even have to touch the thermostat at all! And, to make things easier, for a Wi-Fi-enabled thermostat, you can just control it from your phone so you never even have to get up or go to the area of your home with the thermostat itself!
Programmed Efficiency
There are two important factors when it comes to HVAC efficiency. The first is that you get a yearly tune-up, as we mentioned earlier in this blog post, because it's essential if you want your system to run smoothly. Don't forget this!
The other aspect is that your technology is up to date. If your old thermostat is working with a new air conditioner, you're not going to reach the energy efficiency that the system otherwise would! Match your technology together and make sure you've got the most up-to-date systems.
Contact Polar Bear Air Conditioning & Heating Inc. for a thermostat upgrade or air conditioning maintenance today!