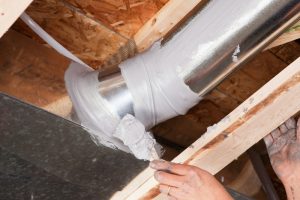 Do you use a central air conditioner, furnace, or heat pump to heat and/or cool your home? If so, then you really need to know for certain that the air ducts that this system uses are in fine working condition. If not, then you are going to wind up dealing with a number of different problems when trying to maintain comfortable temperatures throughout your living space.
Fortunately for you, the professionals on our staff are here to help. Not only can we resolve the problems that you may encounter with your air ducts, but we also have some great tips to help you recognize that there are such problems in your home. Only then can you take the necessary steps to resolve those problems in a prompt and effective manner. 
Spotting Trouble with Your Ducts
When you use a forced air heating and/or cooling system, all of the air that you condition for distribution throughout your house must be delivered throughout that house via your air ducts. Because of this, there are a number of issues you may encounter when your ducts are not functioning properly. Keep these in mind, and let us know if you suspect that your ductwork in Georgetown is in bad shape.
Hot/Cold Spots: If you are having trouble maintaining even temperatures throughout your house, then you may have leaking ductwork. If this is the case, then your air ducts may not be delivering conditioned air to the areas that most need it successfully.
Reduced Indoor Air Quality: Does it seem as though the air quality in your home is on the decline? Then you may have leaky ducts. They don't just allow air to leak out of the system, but may also allow pollutants to make their way in.
Increased Heating & Cooling Costs: Have you noticed that you are paying more and more to heat and/or cool your home, but you are not using your heater and/or AC any more than usual? Then it may be due to your ducts leaking. When your system has to work harder than it should have to, after all, it is going to cost you more to run that system.
Schedule your ductwork services with Polar Bear Air Conditioning & Heating Inc.