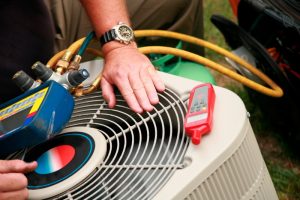 We are honest professionals, which is why we need to tell you that yes, at some point, you are going to need air conditioning repairs. When that time comes, you don't want to make any mistakes that are going to make problems worse. That is why we have some tips for you to help you get the most from your air conditioning repair in Alexandria, VA.
Before we get to that, a quick reminder: No, there is no way in which you are going to be able to keep your air conditioner working reliably 100% of the time. However, scheduling professional, annual air conditioning maintenance will keep your system as close to that unattainable goal as possible. Our Polar Plus Maintenance Program will help protect your system and your comfort.
Never Attempt to Fix Your System Yourself
We know that there are a lot of homeowners who take pride in their abilities to handle jobs around their homes themselves. But certain jobs must only be completed by skilled, experienced professionals. Air conditioning repair is definitely one of those jobs.
When you notice any problems with your air conditioner, you need to realize that there are multiple potential causes of those problems. That means that an accurate diagnosis is every bit as important as great technical service. Our team has the background knowledge necessary to figure out precisely what is wrong with your system.
Never Convince Yourself a Problem Is "Minor" Enough to Wait!
We repair a lot of air conditioning systems each summer. And you know what? We often wind up repairing more serious damages than would have been present had the homeowner called us right away. Putting your AC repairs on the back-burner is never a good plan.
Even "minor" problems are going to affect your air conditioner in a number of different ways. While your system may be up and running, it is not running right unless every component in the system functions properly. If even one component is not, the strain put on the other components in the system can and will lead to more serious problems over time.
Polar Bear Air Conditioning & Heating Inc.