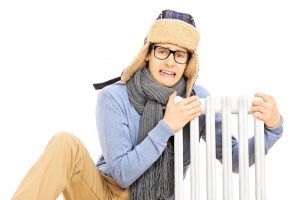 We are going to be using our heating systems for a while longer still. Now is a great time to start thinking about the future of your heater, though. More specifically, it is a good to decide if your heater actually has a future left in front of it. If you had a bad experience with an old heating system this past winter, then you should start to think seriously about a heater replacement in Capitol Hill.
Even if you do decide that the time is right for a heater replacement, there is another big question to ponder. What type of heating system are you planning on using? Two of the most common options are the furnace and the boiler. While those homeowners with existing heating systems often tend to stick with what they know, there is usually an opportunity for trying something different. If you're ready to replace a heater or need one installed in a new property, both furnaces and boilers warrant consideration.
Some Differences, and Some Similarities
While boilers and furnaces are certainly two very different heating systems, they do share a few things in common. Obviously, they both generate heat. Both may use natural gas to generate that heat, though some homeowners choose to use electric furnaces if they don't have access to natural gas. Some older homes in our area, and there are many, still use oil boilers, too. We highly recommend an oil-to-gas conversion if this is the case, as natural gas has many benefits to offer that heating oil cannot match.
So what are the differences that we're talking about? The main difference between a furnace and boiler is the method of heat distribution. A furnace is a forced air heating system, while a boiler will circulate hot water or steam throughout a house to heat it.
Furnaces
Furnaces generate heat by combustion of natural gas or via electrical resistance. A heat exchanger in the system transfers this heat to air that is then distributed throughout the house via a system of ductwork. There are, as with any other system, some pros and cons to this method of heating.
Ductwork can develop leaks, for instance, and that can have a negative impact on overall energy efficiency. It is also possible for forced air heating to stir up allergens in the house, proving problematic for homeowners with allergy or asthma symptoms. That being said, it is no surprise that furnaces are among the most popular of all home heating systems, as their prompt heating output and high efficiency levels on many models make them quite desirable.
Boilers
A boiler doesn't distribute heated air throughout a house. It will burn oil or, as we recommend, natural gas in order to generate heat. That heat heats up water, and that water is distributed throughout the house in a hydronic heating system. This entails tubes installed in the floors of the house, or sometimes behind walls. Steam boilers may also be used, which heat up terminal points such as radiators, but hydronic heating is the preferred method of most homeowners using boilers today.
There is no risk of heat loss through duct leaks, and your air quality won't be compromised due to forced air. Boilers are trickier to install in existing properties, however, so that is something to consider.
Polar Bear Air Conditioning & Heating Inc. is here to answer any questions that you may have about your home heating options.