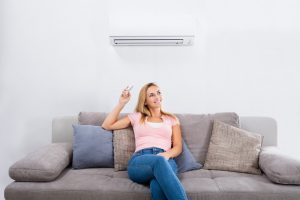 Although we'd like to consider ourselves heating wizards, the truth of the matter is that anyone can boost their heating efficiency with just a few simple tricks. Of course, we may be breaking "Magician's Code," so you'll have to keep this blog post a secret. We are going to share with you the tricks we have long hidden up our sleeves to reveal a number of ways in which you can improve your heating efficiency and keep monthly spending costs to a minimum.
Below, we have listed just some of the many ways you can improve your heating efficiency. Keep reading to learn more! 
Boost Your Heating Efficiency With These Tricks:
Use Your Curtains Wisely
The sun offers endless amounts of free heat energy, so why not use it to your advantage? Opening your curtains on your south-facing windows during the day is a great way to bring free heat into your home. Just be sure to close your curtains at night to keep the heat inside. This extra heat makes it so that your heater won't have to work so hard to warm up your home.
Take Advantage of Your Ceiling Fan
Your ceiling fan can be a great tool in boosting your heating efficiency. Although it may seem counter-productive, turning your ceiling fan on in reverse can actually help circulate warm air throughout your home.
Invest in a Programmable Thermostat
Setting the right temperature is important. In fact, just by lowering the temperature a couple degrees at night or while you're away, you can save hundreds on annual heating costs. A programmable thermostat allows you to create a heating program based around your personal schedule and may even highlight opportunities for you to save even more energy.
Check and Replace Your Air Filter
When your system's air filter becomes too clogged, airflow in and out of the system is restricted. This causes your system to work much harder to circulate air throughout your home. We recommend changing your air filter every 1–3 months during the heating season to maintain optimal efficiency.
Make Sure Ducts Are Sealed
It has been estimated that up to 20% of warm air can escape through faulty ducts. Professional duct sealing services are a great way to ensure that your home is set up to be efficient. It is important to have your ductwork repaired at the first sign of an issue to prevent it from affecting your heater's performance.
Schedule Annual Tune-Ups
Perhaps the best way to boost your heating efficiency is to schedule annual maintenance services with your local HVAC contractor. A professional technician will thoroughly inspect your system for any signs of an issue and make minor adjustments when necessary. Plus, annual maintenance is key to ensuring a long and successful service life.
Polar Bear Air Conditioning & Heating offers comprehensive heating services, including installation, replacement, repair, and maintenance. Be sure to contact our team for all your Arlington, VA, HVAC services.
To schedule your heating services, contact experts at Polar Bear Heating & Air Conditioning today to get started.