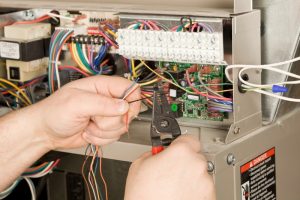 We could all use some warm, sunny weather right about now, but chances are that you're going to be running your heater for a while longer. It may be late in the season, but don't let that convince you that you can afford to ignore any signs of trouble your home heating system may be exhibiting. Trust us when we tell you that your heater can break down just as easily at the end of the season as during any other time.
So how do you deal with heating problems before facing as serious a situation as a complete breakdown? Well, you can learn to recognize the signs that you need furnace repairs in McLean, VA, for starters. No furnace is ever going to be 100% reliable, though scheduling routine heating maintenance will certainly help it to get as close to that ideal as possible. We're happy to tune-up your furnace for you, of course. But eventually, we'll need to repair your system. Call us when you see these warning signs.
Is Your Heater Starting and Stopping Rapidly?
If so, then you could be dealing with a problem that is causing it to overheat. This is called short cycling, and the heater essentially just shuts itself down in order to avoid damages. A number of different issues could result in short cycling.
It could actually be something as simple as a dirty air filter that needs changing, as this can cause very high airflow resistance. Or, it could be that your system's thermocouple is not detecting safe combustion rates, so it is shutting itself down to prevent a dangerous situation from developing.
Are Your Bills on the Rise?
If so, it could be due to a problem that is negatively affecting your system and causing it to lose efficiency. Now, you're obviously going to be paying more the more that you run your heater. If you're not really using your heater any more than usual and you're still seeing a spike in bills, however, it is likely that you need a repair.
Don't ignore this problem, even if your system is still functioning properly. You should not have to overpay to heat your home. With our help, efficiency will be restored to your home heating system.
Is It Making Strange Sounds or Emitting Strange Odors?
If you use a furnace, then you may hear it cycle on. You may hear air being distributed throughout the house via the system's ductwork. What you should not be hearing, however, is the sound of grinding, screeching, and/or squealing. These all indicate that there is a problem with your system that may demand professional intervention.
As important as ensuring that the repairs are done right may be, it is also important that your problems are accurately diagnosed from the beginning. We'll make sure this is the case. Our team will figure out precisely why your system is being so noisy or producing strange odors such as burning, and once we have, we'll resolve the problem completely.
Schedule your heating services with Polar Bear Air Conditioning & Heating Inc.