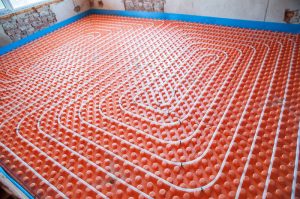 When the time comes to install or replace a heating system, be it your very first time doing so or whether you've got a couple of heaters under your belt already, you need to take the time to choose your new system wisely. You don't want to install your first system only to find that it's not really the right fit, nor must you replace your heater with a very similar system just because that's what you've always used.
Before you even start to decide on exactly which system you will use to heat your home, you are going to have to narrow it down. Generally, you first decide if you are going to use a forced air or a radiant heating system. These systems both have their pros and cons, and they differ greatly in heating methodology. Let's take a look at each option to help you decide if a radiant heating system in Washington DC is right for you.
Water vs. Air
It's a battle of the elements, folks! Well, not really, but the use of water vs. air as a heat transfer medium is definitely something to consider when deciding if radiant or forced air heating is right for your home. Radiant heaters heat water and distribute that hot water throughout homes, typically beneath the floors, via tubes. This allows the heat to transfer through the floor and out to people in the living area. Furnaces heat air directly, and then distribute that air throughout the house via a system of air ducts.
There are pros and cons to each method of heat distribution. Let's take a look at radiant heaters, first.
Pros:
Great efficiency, because there is no risk of duct leaks.
Helps to protect indoor air quality.
Radiant heating has a lot of staying power, with water holding heat longer than air and hot air rising to ceilings.
Quiet.
Long-lasting.
Cons:
More expensive to purchase and install than furnaces.
Can take longer to heat up a cold house.
More involved installation, best completed during construction or remodeling.
And now, the furnace.
Pros:
Affordable and effective.
Brings up temperatures very quickly.
Can share ductwork with an air conditioner (while heat pumps can double as a forced air heater and AC [just a reminder]).
Cons:
More moving parts means more opportunity for failure.
Shorter lifespan.
Can stir up dust and dirt or pull them into leaky ductwork.
While we are happy to help you find the right heater for your needs, ultimately the decision is yours. If you have any questions about these types of heating systems, or other options such as ductless mini splits, do not hesitate to give us a call. We have the knowledge and experience necessary to guide you through this process successfully. Once you've chosen your heater, we are also happy to handle its installation and long term maintenance, of course.
Count on Polar Bear Air Conditioning & Heating Inc. to help you beat the cold this year, and for many more to come.