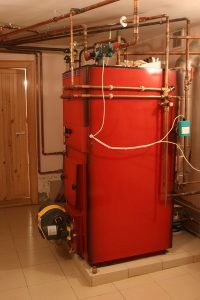 Has the time come to replace an old heating system? Do you have a new home going up, and want to explore your various home heating options? Whatever the case may be, you should definitely consider the installation of a boiler in Washington, DC. When you choose to use a boiler to heat your home, you are choosing to enjoy some truly outstanding benefits. Of course, no heater is going to be the right match for every home or homeowner.
In the following post, we'll help you to discover some of the benefits of using a boiler in the winter season, as well as some of the potential drawbacks of doing so. That way, you'll have a foundational base of knowledge to work with when deciding whether or not a boiler is the right fit for your homelife. Be sure to contact us with any questions that you may have. We know boilers and boiler installations inside and out.
How Does a Boiler Work?
A furnace is a forced air heating system, meaning that it heats air directly and then distributes that heated air throughout a house via a system of ducts. A boiler, on the other hand, uses steam radiators, baseboards, or hydronic heat distribution in order to circulate steam or heated water throughout the house. By opting for this method of heating, rather than forced air heating, you can enjoy some benefits and avoid certain issues.
First of all, radiant heating with a hydronic in-floor heating system is incredibly efficient. Hot water circulates throughout the house via tubes installed in the floor. Heat from the water warms the floors directly, and that heat transfers to people and objects in the living space. The heat stays down in the living area better than it would when air is the medium of transfer, as heat is going to naturally rise. This is especially a problem when heating a home with high ceilings using a forced air system.
If you do not have existing ductwork in your home, or if you want to avoid the use of air ducts in order to avoid issues that can develop due to duct leaks, then a furnace is a good option to consider. Forced air systems can also stir up pollutants in the house, even if the ducts are well-sealed, which can negatively affect indoor air quality.
The Downsides
These issues alone should not be enough to dissuade you from considering a boiler installation entirely. However, it is a good idea to weigh the pros and cons of each system before making a decision. One factor to consider is the cost of a boiler installation. It's more than a furnace, typically, and potentially more if you already have a central AC using ductwork that a furnace could share.
If you have an older home and are looking to avoid the disruption of having ductwork installed, keep in mind that a boiler may not be more convenient. These systems are most easily installed during renovations or at the time of construction, and can be somewhat disruptive in existing properties. A ductless mini split, on the other hand, is a solid option for existing homes that cannot accommodate ductwork.
Let Polar Bear Air Conditioning & Heating Inc. handle your home heating services.