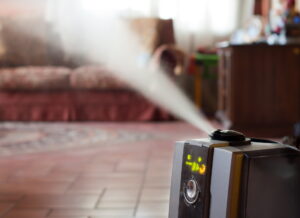 Your air conditioner removes humidity, but your humidifier adds humidity–what gives? Does a whole house humidifier work with AC or not? It's a little more complicated than that, so let's take a closer look and see how they can work in tandem.
How Whole House Humidifiers Work With Your AC
A whole-house humidifier is an appliance that adds moisture to the air in your home. It works by drawing water from a connected water source and dispersing it into the air in the form of a mist or vapor. This helps maintain a comfortable humidity level, which can help with dry skin, allergies, and respiratory issues.
You can absolutely use a whole house humidifier with your AC, because it helps you take control of the air's humidity in a whole new way. If you already have dry air, your AC is still going to pull humidity from the air in your home (whatever's left of it).
But a humidifier lets you also add humidity into the air and keep it below a certain RH level so you aren't introducing problems to your home, but you also aren't sacrificing your comfort, either. Many HVAC systems can come with built-in humidifiers that work with your AC as it operates, though this isn't likely to be what you already have installed in your home.
What RH Is and Why It Matters
RH stands for relative humidity. This works on a percentage-based scale, and has great importance in your indoor air quality and how you live your life. In the 60% to 70% RH range, you're fostering mold growth.
This is why it's important to monitor your relative humidity when you have a humidifier at work. If it's adding humidity to the air too well and your AC isn't pulling any of that humidity out, you ironically cause health problems for yourself. Mold can also damage your property.
With Care, it Improves Your Indoor Air Quality
The right humidity level can improve your indoor air quality. When your air is too dry, it can cause nosebleeds and respiratory problems. When it's too humid, it can promote mold and mildew growth, which isn't something you want to breathe in.
You're basically always battling for the perfect medium of humidity in your home. It's a Goldilocks situation: not too humid, not too dry, and everything's fine.
As long as you replace your humidifier filter and monitor your home humidity levels, you should be okay when it comes to indoor air quality. Just be sure to always keep tabs on it.
They Work in Tandem
Yes, your home air conditioner can work well with your whole house humidifier. That being said, you're going to have to monitor your RH levels and know how to tweak it as needed. They'll work together as long as you know how to control the right input so you get the right output from both systems.
Contact Polar Bear Air Conditioning & Heating Inc. today to schedule your humidifier installation as soon as possible.