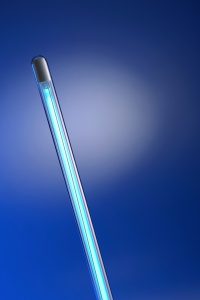 Your indoor air quality is incredibly important to your overall wellbeing, health, and comfort, so of course, you want to make sure yours is the best it can be! Surely, you've heard about air filtration systems and air purifiers, but do you know about UV germicidal lights?
UV germicidal lights are great for eliminating germs and bacteria from your ductwork system so that they do not enter your living space. In fact, there are plenty of reasons to consider installing one of these systems in your home, and below, we've explained why. All you have to do is keep reading to find out more, and of course, remember to call our team when you need a reputable HVAC company in Alexandria. 
The Basics
Your initial thought may be that UV lighting is dangerous. However, the UV germicidal lights that we use are completely harmless to humans!
Despite their harmlessness to us, however, they have the ability to destroy the DNA in biological contaminants and the life-sustaining proteins that keep these cells alive. Not only are these cells killed, but UV lights also prevent them from replicating, effectively eradicating them from your HVAC system and your home.
The Benefits
Why should you care what UV lights do, or how they work? Well, because they come with numerous benefits, some of which we've listed below:
Improved Indoor Air Quality: Your indoor air can actually be significantly unhealthy, without the right type of products or services. When particles such as mold enter your air, they can affect occupants with allergies or asthma, in addition to healthier individuals.
Stops Mold Growth: Nobody wants mold in their home, let alone their indoor air. UV lights have an anti-microbial effect on contaminants that actually helps to stop the development of mold and mildew.
Eliminates Odors: It's no secret that mold can create a foul odor. UV germicidal lights will effectively stop this from occurring at all.
Versatile: You don't have to worry about making room for UV germicidal lights. In fact, they fit right within your HVAC system, positioned where they need to be: aimed at your evaporator coils.
Want One? Call in a Professional
If you are interested in giving your indoor air quality a boost, do not hesitate to call in a professional for help. Trust us, only a certified HVAC professional has the tools, knowledge, and expertise to assess the needs of your home and make the right recommendations for you.
And yes, there may be plenty of amateurs willing to lend a helping hand for a fairly low price, but don't let them! See, sometimes an attempt to save money could end up costing you much, much more in the long run. Therefore, it is always best to call in a pro and get the job done right, the first time around. Get in touch today.
Ready to schedule your indoor air quality services? Awesome! All you have to do is contact the team at Polar Bear Air Conditioning & Heating today to get started!