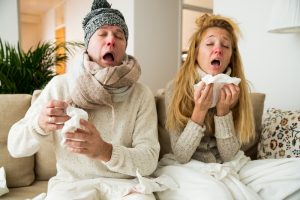 Your indoor air quality is a big deal! Of course, you want your indoor air free and clear of the contaminants that contribute to illness and allergies! But the truth of the matter is that many of us do not know that we've got poor indoor air quality, simply because we've become accustomed to it.
But there are quite a few signs that suggest you're dealing with poor indoor air quality, and below, we've listed some of them for you. And remember, if any of the following apply to you, be sure to contact a professional for HVAC services in McLean, VA. A professional will be able to match you with the systems and services you need to combat your IAQ issues! 
Signs You've Got a Problem
There are plenty of signs that suggest you've got poor indoor air quality in your home. These signs include:
Worsening Allergy Symptoms
Indoor air contaminants such as pollen and pet dander can all worsen your allergy symptoms. Pay attention to extra sneezing, wheezing, itching, and coughing, as this can indicate you are in need of indoor air quality services.
Frequent Illness
If you or your family members seem to be getting sick more often, it could be that you have poor indoor air quality. Bacteria and germs can all make their way into your indoor air, and if they do, you might find that you're constantly ill. For your health and safety, it is best to contact a local indoor air quality expert!
Lots of Dust
If you have excess dust built up around your vents or on the surfaces in your home, you likely have an indoor air quality problem that needs to be addressed. The build-up of contaminants like pet dander, dust mites, and pollen can all aggravate allergies and contribute to illness.
Mold Growth
High humidity levels in your home create the perfect environment for mold and mildew to breed and thrive. As you may know, mold spores can make your family quite ill, so it is important to address the issue right away if you notice mold growing on surfaces of your home.
Uneven Cooling or Heating
If you are noticing cold or warm spots around your home, the problem might not be with your heater or air conditioner. Instead, it might be that you've got an indoor air quality issue on your hands. If this is the case, it is likely that your ducts need to be cleared out, as many indoor air contaminants wind up settling inside your ductwork system.
Higher Bills
If you have found that you are paying more and more to keep your home cool, it might be the result of an IAQ issue. Poor indoor air quality forces your air conditioner to work much harder than normal to keep your home cool, thus putting extra strain on the system. All this extra stress causes cooling bills to skyrocket!
To schedule your indoor air quality services, turn to the experts at Polar Bear Air Conditioning & Heating.