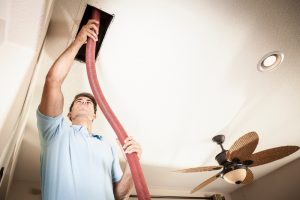 No, we are not talking about the ducks that go "quack quack"… today we are talking about ducts! The ducts that blow cool, conditioned air all over your home!
How often do you actually think about your ducts? Our guess is that it is probably not often—you probably find yourself thinking about ducks more! But, we don't blame you—your ducts are pretty much hidden from sight, traveling through the spaces between your walls and attic, so of course, it is only natural that you'd forget about them.
But here's the thing: it could do you well to think about your ductwork every once in a while. Why? Because any issues with your ductwork directly affect your air conditioner. One issue, in particular, is dirty ducts, which is why you should consider scheduling duct cleaning services.
Keep reading below to find out more!