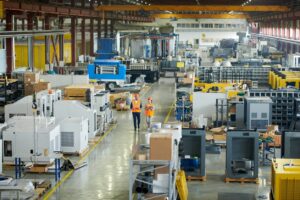 You know what really stinks? Googling "commercial HVAC companies near me" right after you hear that your commercial HVAC system is on the fritz. There's a problem, tensions are high, and there's no immediate course of action.
So you call whoever pops up first… but is that really the best option? Oftentimes, jumping into the first result we find doesn't yield the best results. You need to know what to look for before booking an expensive repair call, only to find out that the company doesn't have your best interest at heart, and you still have to pay the piper anyway.
To help you find the best commercial HVAC company for your needs, we've put this quick list of traits and features together that you should look out for.
Years in Business
The first thing to look for is how long a company has been around. While there may be newer companies that come across as appealing, ask yourself this: who do you want to fix your HVAC unit?
The company who's completely green, or the seasoned professionals with decades of experience? HVAC businesses don't last for that long with bad performance.
However, this isn't everything when it comes to making your decision. There are a few other things you should be on the lookout for.
Specific Searches
HVAC encompasses so many different niche systems, especially when it comes to commercial units. If you need a repair or new company to handle maintenance, it's important that they're familiar with the type of heating or cooling you have.
Some HVAC contractors install and repair radiant heating systems, others do not. Slime specialize in air rotation heating systems–you can see where we're going with this.
Just make sure that the contractors you choose either have a wide variety of heating and cooling solutions that they offer, or at the very least, that they service the system you already have in place.
Make Sure They're Insured
You can't handle liability for your business simply because you wanted the air conditioner to be fixed. Make sure that whichever contractor company you're looking at, they're insured and don't bring any negativity to your business if there's an accident.
Call and Speak to Them
It's simple, but effective. After a minute or two on the phone with someone at a contractor company, you can tell whether or not they understand your specific needs and if they're able to help you.
Ask questions and request a quote. Consuming loads of online content on commercial HVAC equipment and services can make the whole process feel impersonal, but it doesn't have to be.
Let's Talk
The next step is to pick up the phone and find out if we're exactly what you need to handle your commercial HVAC systems. From installation to service and maintenance, we cover a wide range of commercial services to keep your business running without compromising on comfort.
Contact Polar Bear Air Conditioning & Heating Inc. today to schedule your next commercial HVAC installation, repair, or maintenance appointment.