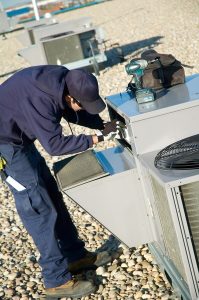 Maintaining comfortable temperatures throughout the year can be a tall order for some homeowners. If you think that's tough, however, just consider how hard it can be to keep a commercial property comfortable throughout the year. With people coming and going all day, different temperature requirements in different areas, the heat gain associated with crowded buildings, and so many other challenges, it can be quite difficult indeed.
Of course, difficult and impossible are two different things. And, for that matter, the task really isn't that difficult when you have the right equipment installed by the right professionals. That is why you should leave your commercial HVAC services in Leesburg to the pros on our team. One option that we typically suggest commercial property owners consider is the rooftop unit. Read on to learn more about rooftop units, and why they are so desirable in the commercial sector.
They Keep Everything All in One Place
When you are cooling and heating an entire commercial property, the equipment used is going to be quite complex and large. By using a rooftop unit, you are able to keep everything bundled together pretty much in one space. This means that your technicians are not going to face challenges in accessing different components for different services, and that means the facilitation of prompt and effective commercial HVAC services.
And That One Place Is Out of the Way
When you own a commercial warehouse, it is not really that big of a deal to have technicians passing through the space. However, it can sometimes be inconvenient if it is a busy period and there really is no time to be getting out of those technicians' way. It is even less desirable to have technicians passing through a setting like a fancy dining room, because they have no other choice when they want to gain access to your systems.
By keeping your commercial HVAC equipment up on the roof, you avoid that problem altogether. In all likelihood, your technicians are not even going to have to enter your property! By keeping the units up on the roof, they have the room they need to work effectively, and you don't have to worry about ruining the ambiance in your property.
Which Also Saves Valuable Space
Why would you choose to use space on the ground level of your commercial property just to have commercial HVAC equipment sitting on it? With a rooftop unit, you don't have to. You simply have the equipment installed on the roof, and then you have that room to use for other purposes. Outdoor seating, additional parking, a small garden area—the opportunities are endless.
There is also the point of aesthetics to consider. We love what our commercial HVAC systems can do for us, obviously. But that doesn't mean HVAC systems are nice to look at—though our installation work is a work of art in our eyes!
Schedule your rooftop unit services with the professionals here at Polar Bear Air Conditioning & Heating Inc.