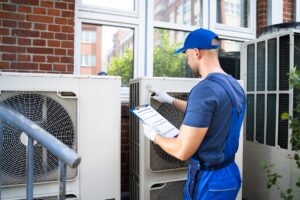 You need a new air conditioner, but you're stuck: you don't want to go through the hassle of an installation, but you also don't want to broil in the summer heat. Let's take the stress away by telling you a rough outline of everything that happens during installation.
When you get air conditioning installation in Washington, DC by experienced technicians like us, you get the most stress-free experience possible. Our experienced technicians work tirelessly so you don't have anything to worry about, and this is the process.
The Pre-Installation Appointment
We know it sounds like an unnecessary appointment, but it's actually the most crucial stage of the process. With a pre-installation appointment, technicians make sure that your home is ready for a new AC.
That means checking out wiring, the outdoor cabinet, the pad the cabinet sits on, and even your ductwork. We need to know what to bring on installation day, and what bumps in the road to expect so we can smooth out the process for you.
Then, There's the Old AC to Think About
That old air conditioner? It had its time. Now it has to go, so the first step of installation day is pulling out the old unit. We detach it safely so you don't have to worry about ductwork tearing or your wires snapping.
When it's taken out professionally, you have the most optimal spot to drop in the new unit. Now it's time to look at what we couldn't see during the pre-installation appointment, and go from there.
Inspect That Old Ductwork
Even if your ductwork is old, it doesn't mean it's bad. Ductwork can last for a long time, but it does need to be tested from time to time, and sealed up on occasion. We'll take a look at your old ductwork and make sure it's ship shape. If not, we'll replace what needs to be replaced, and make sure your new hookup goes off without a hitch.
Installing That Shiny New Unit
Your new air conditioner is about to arrive. It's time to put that new one in, attach it to all the necessary hookups, and get it going. However, this has more steps than you might think.
We have to add the new thermostat, wire it to the air conditioner itself, and test the whole unit. We'll calibrate the thermostat if anything amiss, and if the AC performs well, we're in the home stretch.
Cleanup and Documentation
Now that the air conditioner is in its proper place and the house is cooling down, it's time to clear out the tools and materials that are laying around. While technicians clean up, they'll also provide you with warranty information and any manuals that came with your air conditioner, so you can have all your documentation in one place when the annual maintenance rolls around.
Time for That New AC
Installation day is upon you, and now you have nothing to worry about. You know that you're being taken care of by the best HVAC installers that Washington, DC has to offer–now it's time to kick back, put your feet up, and let us handle the rest.
Contact us today to schedule your air conditioning installation as soon as possible.