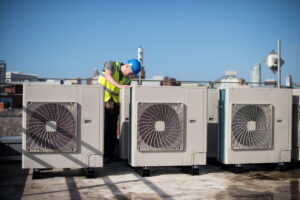 When it comes to commercial customers, things can get a bit overwhelming. There's a lot of air that needs to be cooled or heated inside of a commercial space, and sometimes this can involve several different HVAC systems working together to bring great temperature control. When things go wrong, especially during a busy period of time, a building owner can sometimes look for a cheaper job than one that seeks to right all of the wrongs.
While we understand the sentiment, there's something we need to remind all of our customers when they need commercial HVAC in Alexandria, VA–that quantity will never be better than quality. Your HVAC system requires targeted repairs, routine maintenance, and even a system replacement when it gets old or outdated. It's important to pay for services that are worth the money, even if the cost is higher. So, let's talk about the reasons why we focus on quality over quantity.
Small Repairs Add Up
It might seem like calling a pro every year for a quick fix doesn't sound like a bad deal, but those costs add up and there's likely something more serious going on under the hood. Commercial HVAC units are not supposed to require anything more than a couple repairs over their entire lifespan, as well as routine maintenance every year. So if something is breaking regularly, then a trustworthy professional would find the problem and repair it.
So, if you've invested in repairs every year, then it might be time to look for a new team. Those small repairs add up and can really be a big problem for your bottom line.
Commercial HVAC Systems Aren't Supposed to Break Down
One of the biggest reasons why we stress quality over quantity when it comes to the types of repairs we make is because HVAC systems aren't designed to be fixed all the time. They're designed to work quietly in the background while your business continues to operate. An HVAC professional that's worth the cost knows this is true.
So, if your HVAC system is frequently breaking down, there are only two options:
Replace the system. If the unit is old enough or outdated, then replacing it might be the best option. Our team specializes in being able to give building owners a professional opinion.
Invest in targeted, serious repairs. Don't keep hiring the team that provides quick fixes every year. If there's a problem with your HVAC system to the point that it's breaking down, call a team that takes the request seriously and provides reliable diagnosis and repair.
Choose a Team You Trust
Another reason why we stress "quality over quantity" is because our team just isn't as large as other commercial HVAC providers in the area. But just because a different company has more employees and trucks, doesn't mean they're going to give you the effective service you're looking for. Remember to look at reviews, talk to your prospective professional, and trust your gut.
Contact Polar Bear Air Conditioning & Heating Inc. for comprehensive commercial HVAC services.