When your HVAC system goes down in a commercial environment, it can cost you something more valuable than the price to repair your unit. It can cost you business.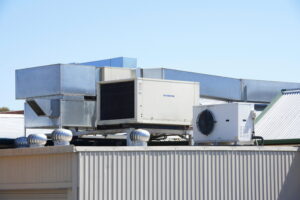 Customers want a comfortable atmosphere regardless of the time of year. Without that, they may judge your business preemptively and have a negative experience. Thankfully, you can avoid that altogether.
Commercial HVAC maintenance can prevent most major problems with your unit. This is what you need to know.
HVAC Specialists Spot Issues Before They Pop Up
Routine maintenance visits allow an experienced, licensed technician to inspect your entire HVAC system. They spot prospective problems based on your unit's performance and cleanliness. This is what you can expect.
Heating and Cooling Efficiency Assessment
An inefficient HVAC system puts additional strain on all working parts. This leads to faster degradation of the critical components of your unit, resulting in more frequent repairs. Regular maintenance allows a technician to identify when your unit isn't performing as well as it should.
When your unit operates at peak efficiency it doesn't overwork each moving part. Maintenance calls are much cheaper than replacing entire elements every time you run into a major problem.
Cleaning of Coils and Drains
HVAC systems filter air throughout your commercial space. The air intake filter helps to maintain a higher air quality in your commercial setting, but it's also critical for the function of your HVAC unit. Even with great filters, some dust and debris will still pass through and get caught in your coils.
HVAC unit coils help dispel heat. Dust acts as an insulator, making it harder for the coils to do their job efficiently. This can lead to overheating which damages the electrical components of your unit and puts additional strain on your motor.
Drains work by removing condensation from your unit and expelling it. Because the line has constant moisture in it, mold and mildew build and can cause your unit to freeze. Ice on the coils can disrupt or damage the motor and interrupt the function of your entire unit. The last thing you want is for your motor to burn out when you could have simply cleaned the drain line.
Safety Inspection
A trained technician is able to spot problems that could result in a safety hazard for you, your employees, and your customers. These include electrical problems that could result in a sudden fire, refrigerant leaks, and more.
Your HVAC technician will understand how to ensure the safety of your employees, customers, and commercial space by identifying safety hazards and determining proper solutions.
Regular Maintenance Saves You Money
While you can't completely avoid repairs, you can prolong the life of your entire unit and reduce the frequency of repairs with twice-yearly maintenance. Preventing interruptions in your day-to-day commercial operations is important; make it a priority.
Reduce your repair frequency with the commercial HVAC repair Arlington, VA businesses trust time and time again. Contact us today to get started.