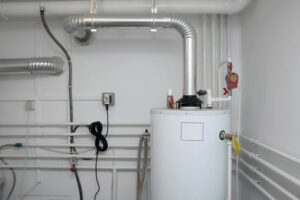 Your boiler is the underdog of your household. There's always plenty of warmth throughout your home on the coldest days of the year, and life keeps on moving. But there's one element to your boiler that you might be having trouble with, and that's the circulator pump.
As the unsung hero of your home's warmth and coziness, your circulator pump is running constantly. Let's find out if your pump is okay, or if you need circulator pump repair in Washington, DC as soon as possible.
Your Pump Isn't Running at All
You turn on your thermostat, and you know that your circulator pump is supposed to kick on, but it doesn't. After waiting for a short amount of time and messing with your thermostat settings, the problem persists.
This points to a possible issue with the motor. It could be burnt out and in need of replacement. A less common problem could be a miscommunication between your boiler and the pump aquastat, which means it simply won't turn on until the settings are restored.
Your Pump is Leaking
Hey, it's not supposed to do that! Water needs to stay inside the pump. This is fairly easy to diagnose since you can hear water leaking out of your circulator pump, or notice a puddle accumulating beneath it. A leaking boiler can wear down certain components as it tries to regain correct pressure and you might detect certain cold spots in your home, as well as foul odors of a mold infestation.
If your pump leaks, water could get into the electrical components and cause a much bigger series of damages. It's best to get this taken care of right away.
Your Pump is Extremely Noisy
Your boiler is noisy. You inspect it only to find that the sound is exclusively coming from the circulator pump. The best-case scenario is that there's some excess air in the pump that can be alleviated. Although it's more likely to be a loose bearing that requires replacement. An inspection from a boiler technician will highlight any other problems that may have caused this as well.
You Have Some Heat, But Not Enough
Boiler systems need a little bit of help to reach the second or third story of your home when it comes to heating. They can't naturally reach those heights because gravity is working entirely against them. So, circulator pumps are required to reach those areas.
If you're noticing that heat isn't reaching the upper stories, or anywhere in your home for that matter, then it could be a problem with the circulator pump. It's not something you can just diagnose by looking at your pump; a technician will need to strip it down to find out exactly what's wrong.
It's Time for a Fix
Your circulator pump has held on for long enough: it's time for a much-needed repair. If you experience any of the problems we've listed here, or you're running into other issues that seem to stem from your circulator pump, you need a professional on the double.
Contact us today to ask about current deals on repair and installation, and get a fix for your boiler problem as soon as possible.